Compression Springs
A compression spring is a coiled spring used as a component in the manufacturing of mechanical devices and consumer goods including, car valves and suspensions, electric switches, toy motors, pens, mattresses and compact disc players. A compression spring is designed to resist an applied force and the compression spring shortens when the spring is loaded. The compression spring coils do not touch each other when unloaded and there are no attachment devices.
Extention Springs
Another type of coiled spring is an extension spring. The spring coils are in contact with each other when there is no applied load and there are hooks or other attachment devices at both ends of the extension spring. An extension spring is designed to lengthen or stretch. The coils of the extension spring will separate when a load is applied.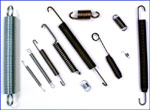 Custom Metal Parts
Wire Forms
Wire -form springs are made from wire that is shaped into parts with precise dimensions. Unlike coiled springs, wire- form springs do not have a coiled design. There are many variations in the design of wire- form springs. Wire- form springs are used in a number of products and industries.
Torsion Springs
Torsion springs are another type of coiled spring. In torsion springs, the coils wind into an increasingly tight spiral when a twisting force is applied. Torsion springs are used in many consumer products including, larger torsion springs for garage doors and smaller torsion springs used in products like mouse traps, digital cameras, compact disc players, clipboards and hair clips.